Translate this page into:

Correspondence
PMID: 28816226
Late presentation of retinal detachment in India: A comparison between developing nations
Brijesh Takkar1 , Shorya Vardhan Azad1 , Indrish Bhatia1 , Raj Vardhan Azad2
1 Dr Rajendra Prasad Centre, All India Institute of Medical Sciences, New Delhi, India
2 Bharti Eye Hospital, New Delhi, India

Corresponding Author:
Raj Vardhan Azad
Bharti Eye Hospital, New Delhi
India
shoryaazad@hotmail.com
How to cite this article:
Takkar B, Azad SV, Bhatia I, Azad RV. Late presentation of retinal detachment in India: A comparison between developing nations. Natl Med J India 2017;30:116
Copyright: (C)2017 The National Medical Journal of India
According to WHO, one-fifth of blind people in the world are Indians and their number is going to double soon. Cataract-related blindness has been the focus but retinal blindness is still unaddressed. Retinal detachment (RD) is the most common indication for retinal surgery. Traditionally, it has been labelled 'incurable' and community-based efforts for its management have been inadequate. Reflecting on the diverse nature of the Indian population, we studied patterns and attributes of RD in northern India. Three hundred and seventy-eight patients undergoing surgery for RD during 2012 at our centre were analysed retrospectively [Table - 1].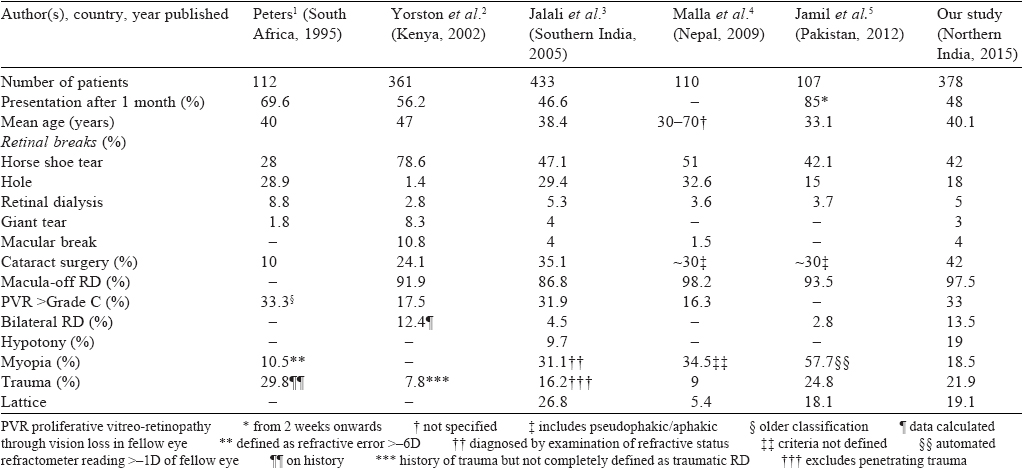 Table 1: Comparison with available data on retinal detachment (RD) from developing countries
Macular detachment was commoner in our study, as was the incidence of RD in both eyes. Around 20% of patients presented within 7 days in a study from southern India,[3] less than 3% reached us in the same time frame. At least 80% of our patients belonged to lesser developed parts of India. Pseudophakic patients with RD are increasing in number [Table - 1], probably because of the higher number of cataract surgeries being performed, that too at a younger age. Stronger medullary and cortical vitreous in the young is likely to exert stronger traction over the retina, resulting in retinal breaks. This trend is similar to that in western countries.[6]
A review of 14 studies of RD from the developed world suggests the highest prevalence of RD in the seventh decade.[7] They describe a variable percentage for traumatic RD (up to 16.4%) and bilateral RD (3%–33%), with a higher incidence of lattice degeneration in East Asians (60%). Macula-off RD have been reported to be around 40%–60% in western countries as opposed to high rates (up to 98%) in the Indian subcontinent [Table - 1].
Our results highlight the delay associated with management of RD in India. It reflects the deficient state of local services and referral systems, requiring an urgent re-evaluation of our regional services. As the rate of cataract surgery increases, prevalence of RD would increase. Improper diagnosis and late referral will add to the burden of preventable blindness.
References
1.

Peters AL. Retinal detachment in black South Africans. S Afr Med J 1995; 85: 158–9.

[Google Scholar]
2.

Yorston DB, Wood ML, Gilbert C. Retinal detachment in East Africa. Ophthalmology 2002; 109: 2279–83.

[Google Scholar]
3.

Jalali S, Yorston D, Shah NJ, Das T, Majji AB, Hussain N, et al. Retinal detachment in south India—presentation and treatment outcomes. Graefes Arch Clin Exp Ophthalmol 2005; 243: 748–53.

[Google Scholar]
4.

Malla OK, Shrestha S, Shrestha SP, Byanju RN, Karki DB. Retinal detachment surgery at Nepal Eye Hospital. JNMA J Nepal Med Assoc 2009; 48: 107–10.

[Google Scholar]
5.

Jamil MH, Farooq N, Khan MT, Jamil AZ. Characteristics and pattern of rhegmatogenous retinal detachment in Pakistan. J Coll Physicians Surg Pak 2012; 22: 501–4.

[Google Scholar]
6.

Olsen T, Jeppesen P. The incidence of retinal detachment after cataract surgery. Open Ophthalmol J 2012; 6: 79–82.

[Google Scholar]
7.

Mitry D, Charteris DG, Fleck BW, Campbell H, Singh J. The epidemiology of rhegmatogenous retinal detachment: Geographical variation and clinical associations. Br J Ophthalmol 2010; 94: 678–84.

[Google Scholar]
Show Sections