Translate this page into:

doi:
10.25259/NMJI_353_20
Chronic choroidal folds in a patient with pleomorphic adenoma
Dr Rajendra Prasad Centre for Ophthalmic Sciences. All India Institute of Medical Sciences

,

New Delhi

,

India
© The National Medical Journal of India
Licence
This is an open-access article distributed under the terms of the Creative Commons Attribution-Non Commercial-Share Alike 4.0 License, which allows others to remix, tweak, and build upon the work non-commercially, as long as the author is credited and the new creations are licensed under the identical terms.
To cite: Azad SV, Kumar V, Agarwal P. Chronic choroidal folds in a patient with pleomorphic adenoma. Natl Med J India 2021;34:372.
A 45-year-old-man presented with defective vision. The patient had undergone lateral orbitotomy for pleomorphic adenoma. Fundus examination revealed a background of multiple linear hypopigmented streaks (blue arrow) one below the other with overlying areas of retinal atrophy (yellow arrow) at the macula (Fig. 1a). Fundus auto-fluorescence of the same showed a stack of hypo-fluorescent lines with central black areas, suggesting retinal pigment epithelium (RPE) and retinal atrophy (Fig. 1b). Swept source optical coherence tomography (SS-OCT) unveiled thinning of the retina (blue arrow) and loss of photoreceptors/RPE (yellow arrow) with underlying choroidal atrophy (square bracket; Fig. 1c). Such a fundus picture is a tell-tale sign of chronic choroidal folds due to long-standing globe compression secondary to intra-orbital neoplasm.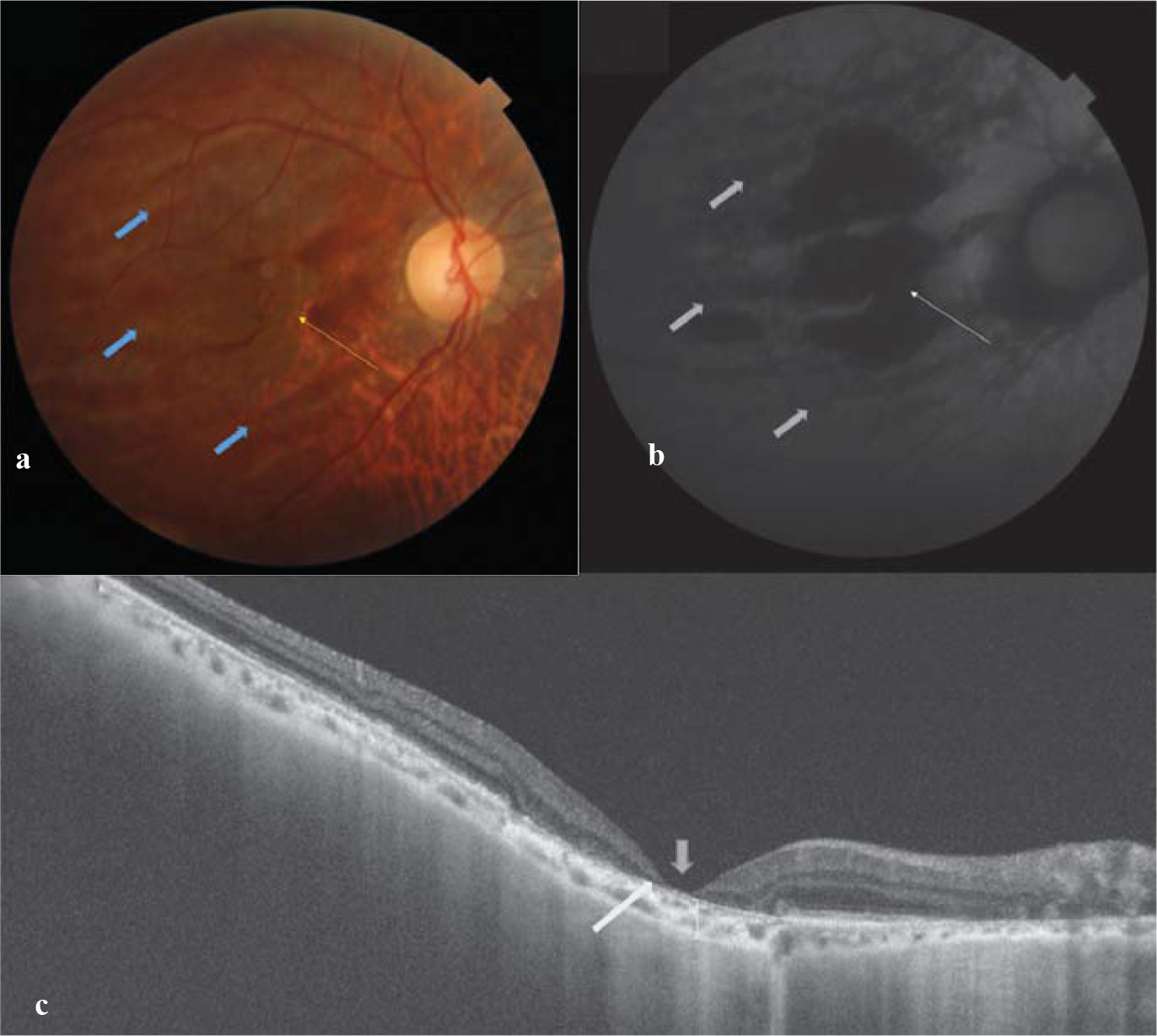 Conflicts of interest
None declared.
Show Sections